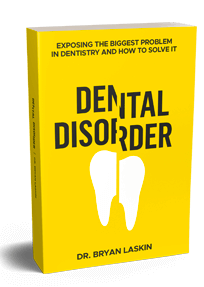 Dr. Laskin's New Book Dental Disorder Is Out Soon... Join the Launch List And Get $500 In Additional Bonus Content!
This is your chance to get involved and get over $500 in bonuses as the book launches!
We will send you updates as the book gets ready to launch and available, bonuses when the book launches, and your chance to attend the launch party.**
2. You Get Over $500 In Bonuses
When you join the launch list you'll get over $500 in exclusive bonuses.
The Dentistry 3.0 Workshop Recording
Dentistry 3.0 Course Bundle (4 CE)
Signed copy Dental Disorder
Signed copy The Patient First Manifesto
Dental Disorder Audiobook
Chance to attend the Dental Disorder launch party**
** Instructions to join the launch party available after you join the launch list above.